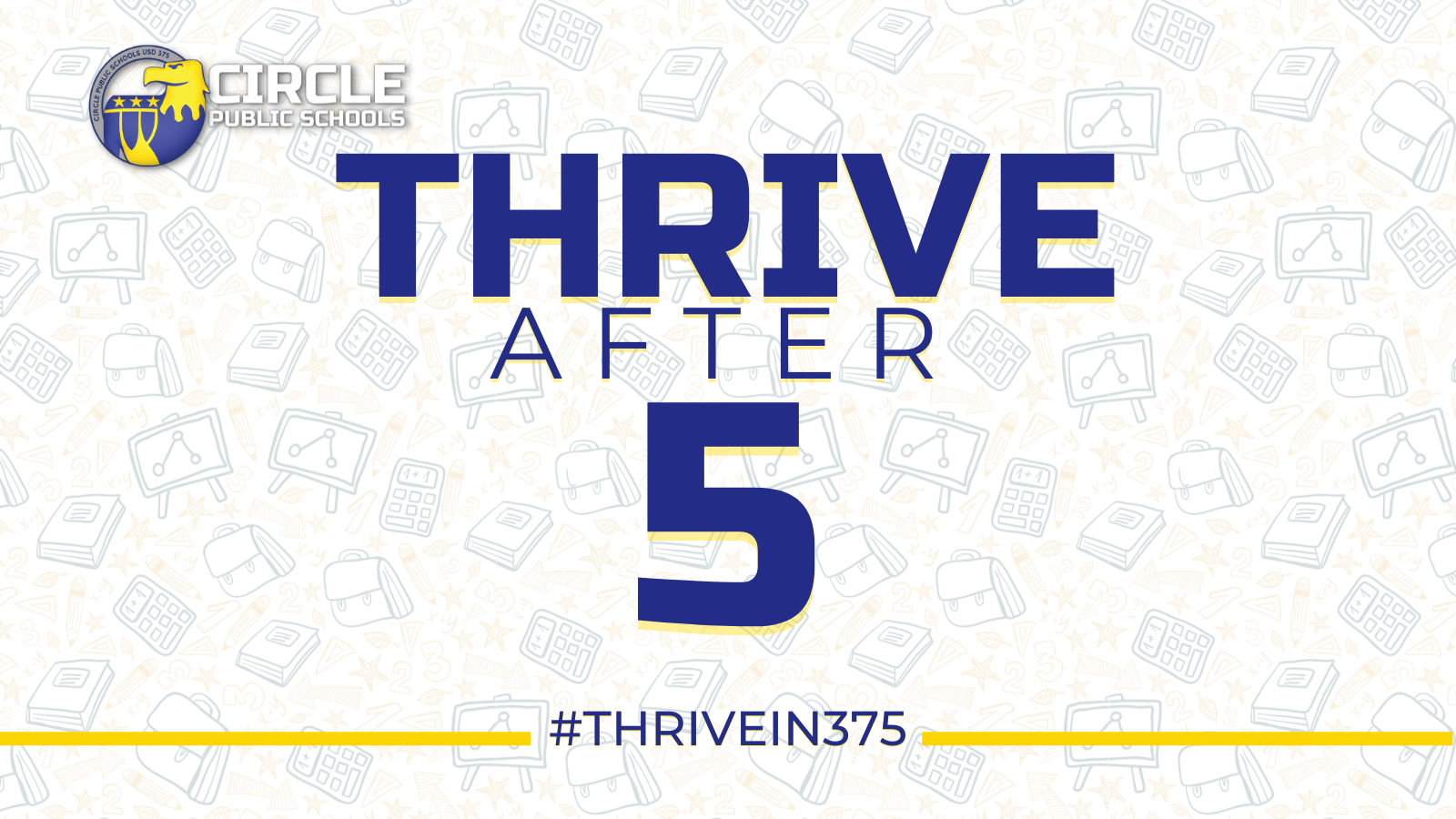 USD 375 AFTER SCHOOL PROGRAM
Circle is here for working parents who are looking for a safe and enriching option for their child every day after school. Our program is designed to create an extension of our district's amazing high standards of curriculum and staff after the regular school day.
Thrive After 5 is Circle's answer to working parents who are looking for a safe and enriching option for their child every day after school. Our program is designed to follow our district's high standards of curriculum and staff.
Our program offers a variety of activities including homework help, playtime, arts and crafts, reading, games, quiet time, and a light snack all in a friendly and safe environment.
We are providing this program for students from Kindergarten to 6th grade. Unfortunately, we are not able to provide services for Early Childhood/Pre-kindergarten students at this time.
Interested in signing up? Contact your school!
CBE (316) 778.1151

CGE (316) 315.4000

COE (316) 321.9515

CTE (316) 536.2728

Each of our 4 elementary schools will host the site for our Thrive After 5 program.
We are available every school day.
Students check-in after school at 3:20 until 6:00 pm. Our program is currently only available when school is in session and is not available on early dismissal days.
Every effort must be made to have your child(ren) picked up on time. If for any reason late pick-up occurs, a late fee of $1.00 will be charged for each minute late.
Our program costs $200 a month per child. This price is based on your contracted days. You are responsible for the contracted days regardless of actual attendance.
Our district will provide a discount for siblings of $25.00 per child after paying for the first child. (2 children would be $375.00 instead of $400.00)

Our district will also provide a discount for children of Circle 375 staff
August, December, and March -- We will adjust these months due to the breaks.
August

Prorated month is $100 for the first child and $90.00 for each sibling.

December and March

First child will be $150 for the month and each additional sibling will be $132.00 each
Thrive After 5 can be paid online through E-funds, cash or checks can be dropped off at your building's site. Checks should be made payable to Circle 375
Fees are due at the beginning of each month. After one month of nonpayment, your child will be unable to attend until fees are current.
Our staff members are employed by the Board of Education and are eager to meet your children's needs.
Pick Up

All children must be signed out every day by a primary caregiver. Please let us know if there is a change in their normal pick-up routine.
Our program directors will work in partnership with parents/guardians to find a solution on those occasions when our daily behavior management efforts are not successful. Whether in resolving an issue or if there is concerning behavior that undermines the quality of the program environment or the safety of children or staff.
Frequently Asked Questions
Q. How can I enroll my child?
A. Contact the host site directly
Q. What ages can attend?
A. K-6 grade students can attend.
Q. How much does it cost?
A. The price is $200.00 a child per month.
Q. What is the latest I can pick up my child?
A. Our times are 3:20 to 6:00 pm.
Q. Is Thrive After 5 available on early dismissal days?
A. No.
A Typical Day at Thrive after 5
Students will be provided a healthy snack while our staff shares the rundown for that days activity.
Following a snack, your child will be provided help to ensure they understand their homework to alleviate some stress at home and encourage critical thinking and problem-solving.
All children need a chance to get the "wiggles" out. our staff will lead interactive games that support positive sportsmanship.