COVID-19 DASHBOARD
SAFE RETURN TO SCHOOL INSTRUCTION & CONTINUITY OF SERVICES
* Plan is subject to change at any time pending Board of Education action.
USD 375 ACTIVE CASES & CLOSE CONTACTS
Click to expand for building specific information.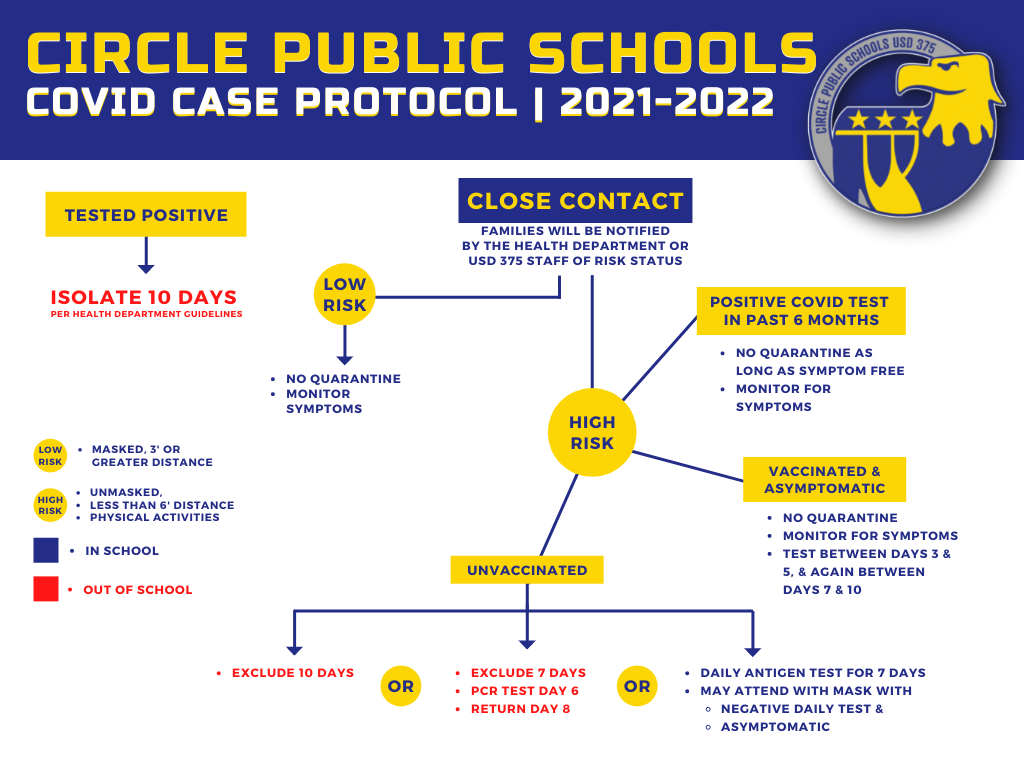 SUMMARY: See full version for more information.
Masks are optional for all students and staff.
Based on a federal order from the Health and Human Services and the CDC, masks are required on all school transportation which includes school busses.
Where possible, social distancing practices will be utilized. Considerations will be made for cohorts or pods if needed. Complete social distancing with all students in person is impossible within our district schools.
HAND-WASHING & RESPIRATORY ETIQUETTE
Hand-washing and respiratory etiquette will continue to be taught to students with emphasis and practice protocols rehearsed more frequently in the primary grade levels. In addition, hand sanitizing stations and liquids will continue to be made available for use in all classrooms.
Custodial staff have been and will continue to follow specific cleaning protocols and procedures.Our district will continue to use cleaning solutions that are rated to eliminate the COVID-19 virus.
QUARANTINE & CONTACT TRACING
Close contacts in combination with isolation and quarantine will occur in collaboration with the State and local health departments. Our district nursing staff will conduct close contact with administration along with documentation. The nursing staff and school administration will contact individuals who are considered a close contact with a person who has tested positive for COVID and recommend that those individuals follow current quarantine/self-isolation guidelines issued by the local health department.
HIGH-RISK CONTACT DEFINITION
High-Risk Contact Definition:
In general, a person is considered a "close contact" of a confirmed case if they were within 6 feet of the case for 10 consecutive minutes or longer, if they had exposure to the positive individual's respiratory secretions, or if they live with the positive individual or stayed overnight for at least one night in a house with a positive individual.
The final decision on what constitutes close contact is made at the discretion of public health along with quarantine requirements.
Guidelines via KDHE, Local Health Department
If vaccinated with no symptoms-no quarantine necessary

If within the last 6 months you have tested positive with COVID-19-no quarantine necessary

If both the positive individual and the contact are wearing a mask, no quarantine necessary

Quarantine at home for 10 days from last exposure, if you have no symptoms you may return on day 11. (No testing option)

Quarantine at home for 7 days from last exposure, if you have no symptoms on Day 6 you can get a PCR test on Day 6 or 7 and if it is negative you may return on Day 8.

If you are a high-risk close contact with no symptoms you may get a daily nasal swab (for 7 days after exposure) and if it is negative you may go to school and activities that day while wearing a mask.

IF POSITIVE

If symptomatic-10 days from appearance of symptoms and 24 hours fever free

If asymptomatic-10 days after positive test
DIAGNOSTIC & SCREENING TESTING
Students, staff, and community members can access COVID-19 diagnostic or screening tests through a variety of community partners. School nurses and health support staff will continue to monitor for symptoms, trends, and clusters, and request that students and staff seek medical services as appropriate.
Our district will participate and partner with vaccination efforts in accordance with state and federal law for staff and eligible student groups. The District will not refuse, withhold from, or deny a person any services, goods, facilities, advantages, privileges, licensing, educational opportunities, health care access, or employment opportunities based on the person's COVID-19 vaccination status.
SUMMARY: See full version for more information.
Free meals will be made available for all eligible youth during the 2021-2022 school year.
Remote learning is online instruction using video/audio of the live classroom and teacher.
Remote learning will not be an option unless considered a circumstantial need by administration and approved by the Board of Education. In the case of isolation and/or quarantine, the student will continue to receive assignments, etc. as normal in previous years. HB 2134 states a student can only utilize remote learning for up to 40 hours of instruction unless otherwise approved by the Board of Education.
If students want to attend remote full time, a virtual learning option is available through ORION educational service center
At this time, there are no restrictions on visitors to schools or activities.
When visiting other schools for activities, we will follow their current county & school guidelines.
Our district will provide reasonable, necessary, and appropriate accommodations to its policies and practices for students with disabilities as determined by individual student needs and in accordance with an individual's documented accommodations and/or individualized education plan (IEP). Parents or guardians of students requiring accommodations should contact the applicable building administrator(s) to request information on plans for students with disabilities.