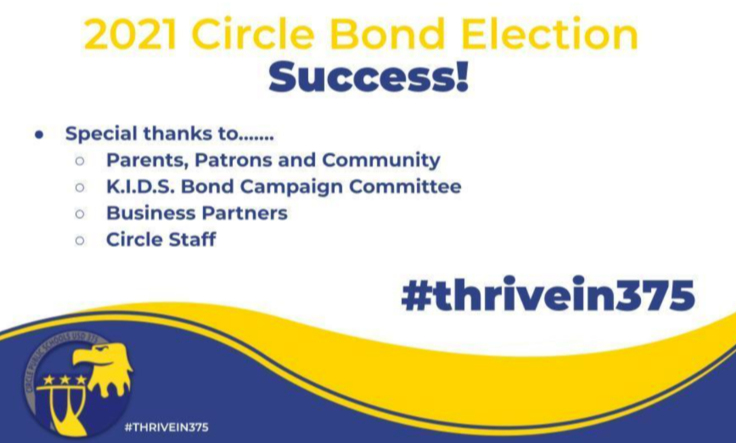 We look forward to continue growing and providing opportunities for Circle District! Thank you for making this possible! #thrivein375
In recent months, a District Facilities Committee consisting of parents, patrons, educators and consultants was formed to evaluate educational and other programs for present and future, and prioritized needs for quality education. The Committee identified specific areas:
Improvements for safety and security in all schools for students, teachers and staff;

Classroom additions to meet growth demands in the future

Additional classroom and support spaced for enhanced and efficient education and individualized learning;

Consolidation to increase efficiencies
The Committee submitted their recommendations to the USD #375 Board of Education and recommended a bond referendum as the most cost-effective way to address these challenges and goals. After much consideration throughout the process, and input from several sources, the Board of Education approved a resolution scheduling a special bond election.
The Circle School Board is proposing a $42,087,962 bond issue to fund construction of:
A new Benton Elementary

Construction of classroom, secured entry and gymnasium space to Greenwich Elementary

Additions and gym space to Towanda Primary and repurpose of Towanda Intermediate

Additions to Circle Middle School for storm shelter and provide safety and security upgrades

Additions for Support Services Facility located at existing Transportation Facility in Towanda

Updates to safety and security and restroom remodel at Oil Hill Elementary

Addition of Pre-School at Oil Hill Elementary