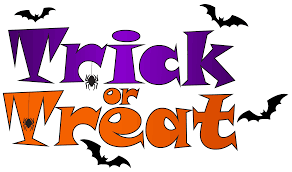 Trick or Treating Opportunities
Circle Benton Elementary
Monday, October 28, 2019
Flyers are going home inviting CBE students to trick or treat at a couple different events. The information is as follows:
1. Trick or Treat Downtown El Dorado Main Street on Thursday, October 31 from 4:00 - 6:00 pm. Located on Main St, 100 Block of West Central Ave. & at the YMCA. Candy, food, games, photo booth, music and costume parade. Admission is free. All ages are welcome. The pumpkins used to decorate the Downtown street corners are Free to take home after the event at 6:00 pm.
2. 22nd Annual Trunk or Treat with Don Hattan Dealerships on Thursday, October 31 from 6:00 - 8:00 pm. Fun and safe environment for kids to go trick-or-treating. Trunks will be full of candy at the Wichita, Derby and Augusta locations and they will have a photo booth for pictures.
Have a Happy Halloween!